We need food, not tobacco was the motto of workshop for advancing tobacco control in Uttar Pradesh.
Uttar Pradesh Voluntary Health Association (UPVHA) is a network of voluntary organisations working in the field of community health and development across Uttar Pradesh. It is a state chapter of Voluntary Health Association of India (VHAI), New Delhi. Its head office is located in UP's capital Lucknow. UPVHA is implementing quality programming on health, environment and rural development in the State since 1985. It was established as a non-profit secular organisation and registered under the Societies Registration Act, 1860. UPVHA advocates people-centred policies for dynamic health planning and programme management in UP.
Our
Reach
Over the years we have worked in
Mission 10,000 Trees

Have you ever wondered what a world without trees would look like? Not good of course! We strive to initiate a campaign to plant 10,000 trees in areas like wetlands, river banks, and barren lands of UP, India in 3 years.

Rs. 200.00

donated of

Rs. 1,000,000.00

goal

Animal Welfare

There are over 2 crore stray animals in India and caring for an injured or sick animal is a resource intensive and time taking job. Every rupee donated by you will help in providing proper care to them.

Rs. 100.00

donated of

Rs. 1,500,000.00

goal

Help a Special Child

Premature babies, delayed development, and autism are common in countries such as India. Such children perish and lose all opportunities if they are not taken care of at the appropriate time.

Rs. 0.00

donated of

Rs. 2,000,000.00

goal
Events and
Updates
Check this space for our latest events and updates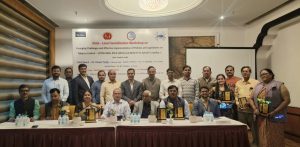 The UP. Voluntary Health Association, a prominent state-level network collaborating with 'The Union' to support the National Tobacco Control Programme...
Read More
Our
Partners
We are highly grateful to our donors and supporters.